Name: James Yau
Tel: +86-769-8239 5636
Fax: +86-769-23179985
Mobile: +86 139 2581 9981
E-mail: info@topneoprene.com
Add: No 17, Chuangxin 6 Road,Hantou, Liaobu Town, Dongguan City, Guangdong Province, China(Mainland)
MSN: neoprenebags@hotmail.com


The Usage and Application of Neoprene Fabric
The Usage and Application of Neoprene Fabric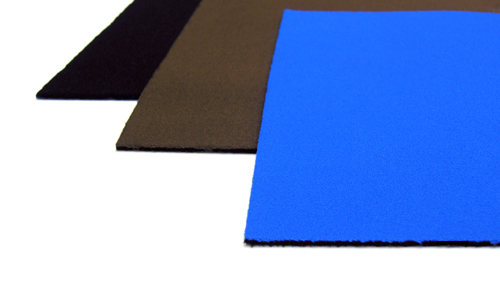 Neoprene is an extremely versatile synthetic rubber. Neoprene is famous for its unique combination of properties, which has led to its use in thousands of applications in diverse environments.
Neoprene is produced by forming a raw mass through mechanical kneading and rolling. In a multistage process of compression and extrusion this mass is then vulcanized into compact blocks which, after maturing, are split up into sheets of various thicknesses.
Afterwards, further surface treatment is performed or lamination using knitted fabrics such as Nylon depending on the intended purpose.
All of the process segments are subject to specific time, pressure and temperature conditions upon which optimal development of the various quality characteristics of the final product depends. The formation of a homogeneous cell structure without any cavities is crucial.
Neoprene is a closed cell material based on rubber. Its special mixture of different types of rubber as the base substance and numerous other components provides it with the following unique properties:
Aquatic sports

Diving, surfing, kayaking

Fishing and fishing accessories

Boat equipment

Orthopaedic's / podiatry / physio

Insoles and linings

Bandages

Supporting and padding elements

Belts and special-purpose clothing

Bags for sensitive devices

Outdoors / recreation / sports

Horse bandages / gaiters, hoof protectors

Motorcycle clothing

Trekking equipment

Treads

Shooting and cycle racing

Protective clothing / equipment

Protection against the cold and other climatic influences

Fire brigade clothing

Survival suits

Gloves

Design / accessories

Bags for laptops, mobile phones and photo equipment

Furniture components

Fashion wear
Product availabilty:

We stock Neoprene in both rolls and sheets (3.2 x 1.2 metres) and in the following sizes/laminations:
2mm, 3mm, 4mm, 5mm
Black, Blue, Grey, Navy, Burgundy
Nylon, Lycra, Microfibre
Other combinations and sizes zre available for bulk order purchases. Please contact us for further details or a quote.
All Neoprene products from Algeos are tested for skin tolerance by our manufacturers. Test certificates are available to customers on request.