Name: James Yau
Tel: +86-769-8239 5636
Fax: +86-769-23179985
Mobile: +86 139 2581 9981
E-mail: info@topneoprene.com
Add: No 17, Chuangxin 6 Road,Hantou, Liaobu Town, Dongguan City, Guangdong Province, China(Mainland)
MSN: neoprenebags@hotmail.com


Promotional Gifts Products Trends
Promotional Gifts Products Trends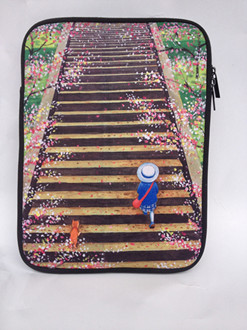 Businesses have handed out free promotional gift products for decades as a way to keep their company name in front of prospective buyers. Whether you hand out promotional items at trade shows or as gifts after meeting with customers or prospects, your goal is to get people to call when they're ready to buy your products and services. By staying on top of today's trends, your promotional item becomes memorable enough to help build brand while creating a positive impression in the minds of potential buyers.
Going Green
If your prospective customers are environmentally conscious, as is the growing trend in today's society, eco-friendly promotional products help draw attention to your company's offerings. Promotional products made from recycled materials, such as t-shirts, coffee mugs and magnets made with corrugated paper on the front, all say that company values going green. Tote bags to carry groceries, rather than using plastic bags provided by the grocery stores, are another item on which your company name, logo and website address will be seen not just by the carrier but also by other shoppers.
Functionality
In a 2011 study conducted by Promotional Products Association International, 69 percent of the recipients of promotional items said the usefulness of the item was important to them. Consider upping the ante with key rings that include tools such as whistles, tiny flashlights or bottle openers. If you're in the restaurant business or in a food or culinary product business, kitchen gadgets may fit the bill, since they get seen whenever people use them to cook or prepare food. The old standby, refrigerator magnets, is also useful for customers to quickly locate a phone number to call for carryout and delivery or to order appliance repair.
QR Codes
Adding a quick response code, also known as a QR code, to your promotional item gives you a way to interact with your customer. People with smartphones scan the code, which takes them to your website. Free QR code setup is available from a number of websites. The code can link to any page on your website, allowing you to point people to a page with a contest or a special coupon they can use on your products or services. Let people know what the perceived value of the code is when they use it to access your website.